How to apply EWS Certificate Assam – Download EWS application form Assam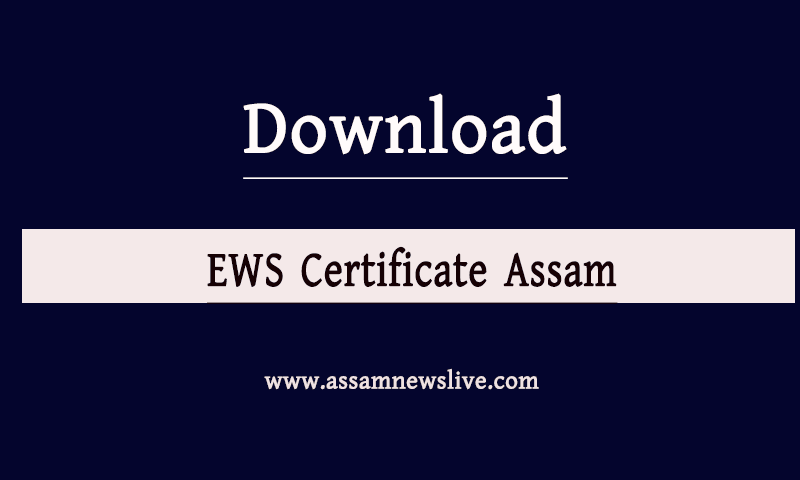 EWS certificate Assam is issued to the citizens of Assam belonging to the economically weaker sections of the state. Economically Weaker Section (EWS) comes under the General category; which came into effect from the year 2019. This is a new reservation sub-category of the General Category. The full form of EWS certificate Assam is Economically Weaker Section certificate. Despite being a general category one can avail reservation for government jobs and admissions in educational institutions by having an EWS certificate Assam.
Benefits of EWS certificate Assam
Economically Weaker Section certificate Assam is most important and beneficial for the candidates of General Categories. It is beneficial for the Economically weak section in higher education and government jobs all over India. 10% seats are reserved for the candidates who have an Economically Weaker Section Certificate. Reservation are easily made for them in comparison to the general category.
EWS certificate criteria in Assam
The EWS certificate criteria in Assam are as follows- The yearly family income of the candidate must be less than 6 lakhs per annum from all sources. His/her family must not have more than 15 Bigha of their own agricultural land. A Person under the General category should have less than i)15 Bigha of agricultural Land in rural areas ii) 1 Bigha of residential land in rural areas iii) 1.5 Katha of land in the Town Committee Area and iv) 1000 Sq.ft. House in Town Committee area for getting an EWS Certificate in Assam.
EWS Certificate Assam Validity
EWS Certificate Assam Validity is only for 1 year from the date of issue. EWS Certificate Assam gives the certification of income for one financial year. That means EWS Certificate Assam will be useful for a longer period if you make it the first week of the financial year starts. And, thus you will get 100% benefits of EWS Certificate Assam. So, to check the validity of the EWS certificate Assam you need to look for the date of issue. Once your validity of 1 year is expired of the EWS Certificate Assam, then you have to re-apply for this certificate. Please keep in mind that there is no renewal facility available for EWS Certificate In Assam.
Documents required for EWS certificate
Applicant must have the following documents at the time of filling the EWS certificate Assam application form –
Address Proof (Adhar Card, Voter Card, Passport, etc)
Id Proof (Pan card, Voter ID card, etc)
Salary Slip
Passport-sized photograph
Land revenue receipt (on verification by LM in case of the farmer) and
other relevant documents like voter list, Gaon Burrah Certificate, Land Revenue Payment Receipt, etc.
How to apply for EWS certificate in Assam
All eligible candidates can apply "EWS certificate Application form" in offline mode Assam. The offline application form is given below. One has to download the EWS application form from the link below. The applicant has to print the news application form and fill in the asked details.
Applicants are required to fill in the following information in the application form- Name of the Applicant, Parent's/Husband's Name, Address of the Applicant. The candidates must be careful while filling in the information in the EWS application form Assam.
Submit the filled EWS application form in the Revenue circle where the candidate and/or her/his family normally resides. EWS certificate in Assam can be availed upon production of an Income and Asset Certificate issued by the Circle Officer or Circle Officer (A).
EWS certificate Assam 6 Lakhs format
A family who has a "gross annual income below 6 lakh [Rupees six lakh only] are to be identified for applying EWS Certificate Assam. One should not have more than Rs. 6 lakh ( Rupees Six Lakh only) income for that financial year. Download option of EWS certificate Assam 6 Lakhs format is given below.
How to renew EWS certificate in Assam
The process of renewal of the EWS certificate in Assam remains the same as the process for applying a new EWS certificate. You have to visit the circle office of your area with the updated set of required documents for the new financial year to get a new EWS certificate.
Download EWS application form Assam
We have collected two fomat of EWS application form Assam. Please go the link below and click on the download option to download EWS application form Assam.
EWS application form Assam (FORMAT 1) – Download
EWS application form Assam (FORMAT 2) – Download